This 1986 book from BR features a lot of photos of BR Stores as well as the Zieglers themselves.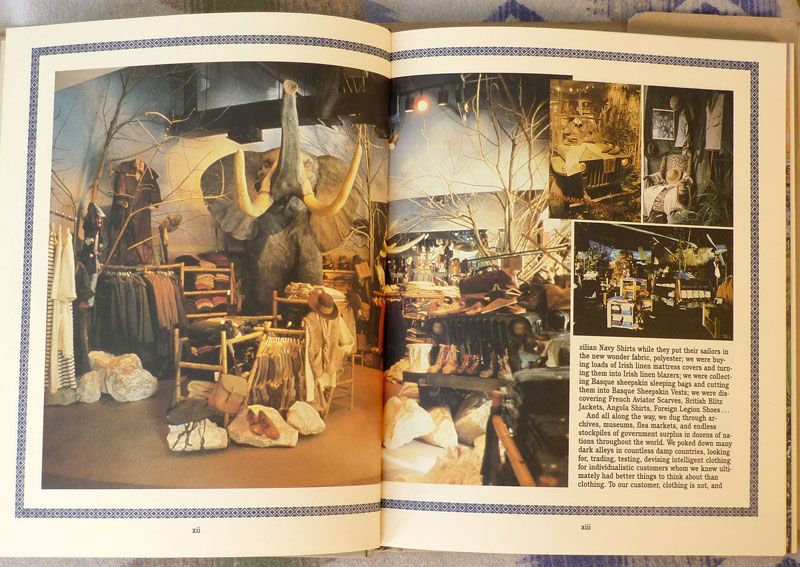 ---
Hired by Patricia Ziegler at a starting wage of $5 an hour, Kevin was witness to the explosive growth of a mom-and-pop operation that would soon have over a million catalog subscribers and stores across the country and world. Kevin's remembrances include a detailed account of how the catalogs came together-with so much hand drawn illustration rendered in printing techniques that are practically forgotten today.
---
Think you remember the Banana Republic catalog? Here's how it looked in the earliest days before most of us had heard of them.
---
Mike was the production artist responsible for the layout and printing of nearly every BR Catalog from 1984-1988. He describes the process of creating and printing the catalog and shares behind the scenes memories of the rise and fall of the Ziegler era of Banana Republic.
---
A fantastic look at the founders of Banana Republic in their prime. Metropolitan Home Magazine.
---
The Press Room: News Articles About Banana Republic
Wikipedia's Banana Republic entry:
Here's a video clip from a Mel Zeigler speaking engagement in which he shares some great anecdotes from Banana Republic's early days. Wish they'd have panned to the screen to show the photos!
Here's a fantastic blog post that appeared the same week that I launched this site. Banana Republic Summer 1985
1987: Adventurous Shoppers Find Niche at Specialty Stores : The Experience Is Like an E-Ticket Ride at Disneyland
These two tell a story, eh? La Times, March 1988: BR Launches Travel Magazine One month later: LA Times, April 1988: BR Founder's Resign
Mel and Patricia Ziegler
Life has been a grand safari for the founders of Banana Republic
New York Times: AT HOME WITH/MEL AND PATRICIA ZIEGLER; About to Hatch Their Third Republic
Oprah has this: Amazing but True
Regarding the rebranding of Banana Republic: