The BR Studio Services Department
Banana Republic had a Southern California Studio Services Department that served the needs of the film and television community. Born at the Beverly Hills store and then later headquartered in Beverly Center, the department was headed by Louise Voisine who wrote me:
Developing the Studio Services Dept. was a dream. I already knew alot of people in the film industry so one day I just decided they all needed to shop BR. I remember well the time I spent putting a 25 page proposal together and submitting it to Patricia, Mel and Don Fisher.

Pretty cool to design a dream job for myself and end up bringing it to life for BR. Before you knew it we were on the silver screen on Arnold in Commando and Miami Vice and on and on.

You would have loved the fashion shows I produced in the BR Beverly Hills store. We would close down the store and by invitation only guests from the film and television industry would arrive in limo after limo. Sylvester Stallone never missed a show and Ron Pearlman at the time who starred in Beauty and the Beast would always joke with Sylvester and see who could frown the hardest at each other. Well those stories go on and on with so many different stars arriving for the shows.

We even had a wild animal farm I knew with all exotic critters that starred in film and television. They would come to the shows and the models would strut their stuff with hawks and chimpanzees on their shoulders. I had the most charming picture of Bill Fisher with a chimpanzee on his shoulder holding his hand.
Newsletter Interview
The Banana Republic employee newsletter the Communique did a big story about studio services in 1988. It's a really great read. It mentions they had a New York office headed up by Wendy Kerensky and together, she and Louisa coordinated with producers, directors, and costumers who were seeking the Banana Republic look on their films, shows, and commercials. "Every major studio in the city has an account with us," Louisa says. The process began when a representative of the production would visit BR and carry off a load of garments show the brass. "They have 72 hours to get it approved, then they can buy it or bring it back." In March of 1988 Studio services accounted for $23,000 in sales.
The article continues, "Sometimes a studio will buy multiple units of the same garment; filming can be hard on clothing. And in some cases, the costumers "trash" the clothes on purpose, or redesign them so they're hardly recognizable, as is the case with CBS' Beauty and the Beast. Occassionally, multiple units will be purchased for another reason: The star of one show recently purchased 200 Windbuffer Jackets as gifts for the crew."
Louisa notes that the MacGyver series used so much Banana Republic's clothing that star Richard Dean Anderson's dressing room looks like a Banana Republic store.
"A short list of our best customers reads like a guest list at the Hollywood Bowl: My Sister Sam, Simon & Simon, Our House, Houston Knights, Family Ties, Duet, Werewolf, Mr. President, Tour of Duty, Hooperman, and the Guiding Light. And a list of recent movies in which BR is visible includes Baby Boom, Disorderlies, Action Jackson, Three Men and a Baby, Harry and the Hendersons, The Serpent and the Rainbow, Throw Momma from the Train, Bluegrass, Flowers in the Attic, The Untouchables, Raising Arizona, Poltergeist II, Hope and Glory, Outrageous Fortune, Roxanne, Superman IV, and Broadcast News."
Interestingly, the picture of Harrison Ford as Indiana Jones says he's in a BR hat, but I'm fairly certain that can't be true. The Indiana Jones hat was made by Herbert Johnson
"Using the information gleaned from trade papers and personal contacts, Louisa send information packages to the studios involved. "I have to reach the new people in the industry," she says, "the dressers, wardrobers, costume designers–anyone who might not know what we have to offer." All in all, Louisa says, working in show business is fun, even though it's not glamourous. "It's different from all other businesses", she says. "The root of all of it is the very creative people who are high strung and under enormous pressure. You know, "Tomorrow at eight we have to ft three people and they haven't even been cast yet."
Photos from location shoots…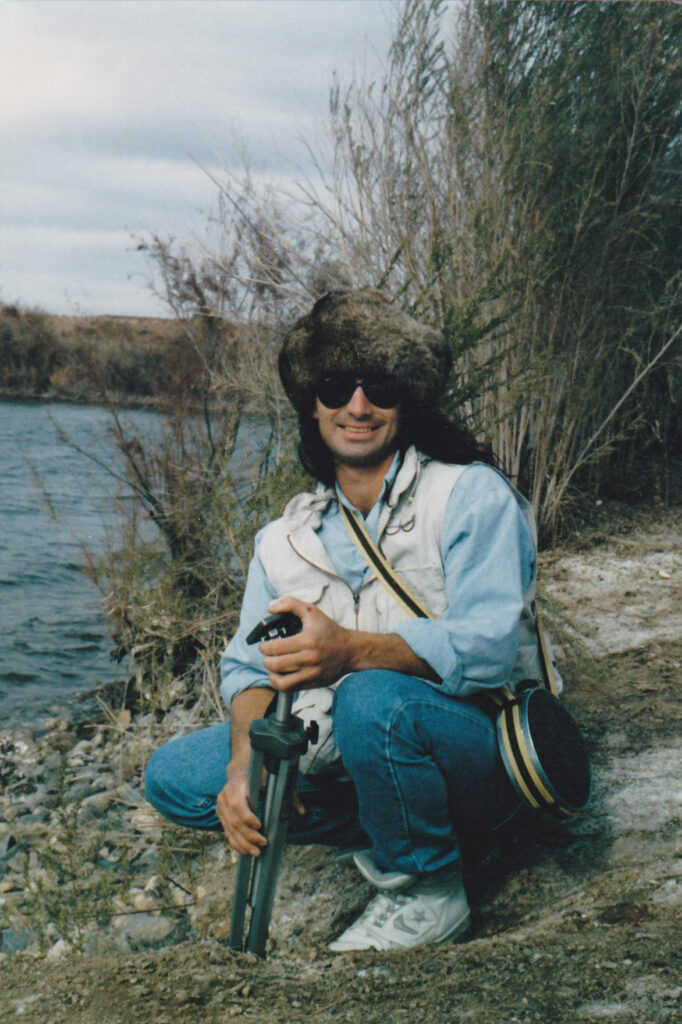 Letters of Thanks from industry people