Explore the Empire: Banana Republic History
This 1986 book from BR features a lot of photos of BR Stores as well as the Zieglers themselves. We have scans and video walkthrough of the book.
In Their Heyday: The Zieglers at Home and Office (more press below)
A fantastic look at the founders of Banana Republic in their prime. Metropolitan Home Magazine.
---
Staff Interviews: Kevin Sarkki, Catalog Illustrator
Hired by Patricia Ziegler at a starting wage of $5 an hour, Kevin was witness to the explosive growth of a mom-and-pop operation that would soon have over a million catalog subscribers and stores across the country and world. Kevin's remembrances include a detailed account of how the catalogs came together-with so much hand drawn illustration rendered in printing techniques that are practically forgotten today.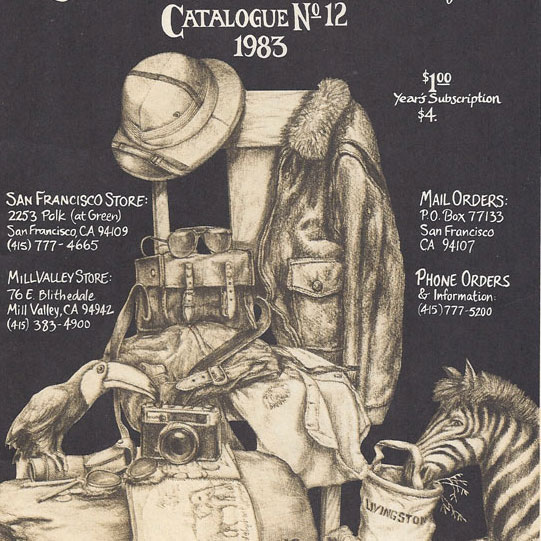 Banana Republic Memories from Staff Artist Kevin Sarkki
Scanning catalogs, as I do on an almost daily basis these days, I noticed that the Holiday 1985 Catalog credited the cover art to a a 25 year old staff artist named "Kevin Sarkki." A quick Internet search led to an email exchange with Kevin, who was indeed a Banana Republic staff illustrator from 1982-85. In fact, […]
Memos to Kevin re: Banana Republic
"Hi Abandoned Republic! I've the day off so wanted to get these treasures to you ASAP. They sort of tell a story of a starving artist (me) negotiating the perilous deep waters of the business world in the big city of San Francisco during the early 80s. " –Kevin From the archives of staff artist Kevin Sarkki we […]
Staff Interviews: Mike Madrid, Catalog Production Artist
Press Clippings from the Ages
Regarding the rebranding of Banana Republic:
Wild Company Articles
Some of the more interesting articles about Wild Company, the Ziegler's memoir about Banana Republic. Follow their latest news via Twitter or Facebook
SF Chronicle Banana Republic founders' 'Wild' memoir
Seamwork Article on Banana Republic
A very nice article was published in March 2018 on Seamwork by Betsey Blodgett. It includes a few photos from the eras of Mel and Patricia that we haven't seen before. Particularly the photo of the store with an airplane in it! Check it out!