The Photojournalist Vest was staple of Banana Republic until well-past the catalog era. What's most surprising to me is that there were catalogs when it WASN'T included. (Spring-Fall 1986) It is ubiquitous on eBay to this day, as many were sold and they never wore out.
Version One
Version One of the vest debuted in the Holiday 1983 catalogue (above) and was discontinued in Spring 1985 when it was listed as a Safari Vest in the same catalog as Version 2 of the Photojournalist Vest (Outback). It's distinguished by the vertical stitching on the shoulders and has fewer pockets. They appear on eBay infrequently. Notice the size tag is attached to the right side of the crest tag in this early example.
Version Two
Version 2 was only produced in 1985 and was originally called the "Outback" Photojournalist Vest (Spring 1985). It was last seen in the 1985 Holiday catalog. It is distinguished by strong horizontal stitching on the shoulders and had 15 pockets.
Version Three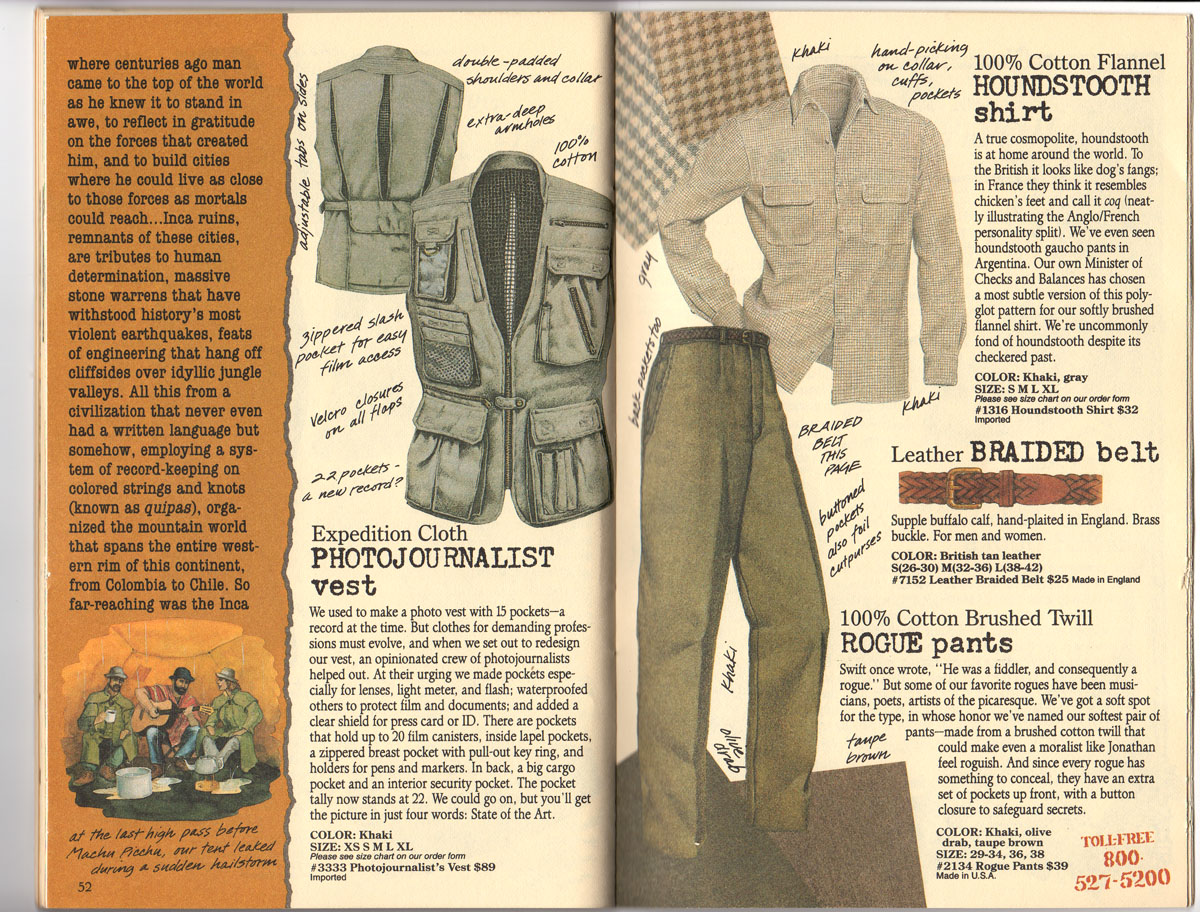 Version 3 was introduced in Fall 1986 (Spring and Summer 1986 had no PJV). It is distinguished by the press credentials window pocket on the right breast as well as the split in the middle of the back and is lined with a heavy mesh. It has 22 pockets. Fittingly, the final catalog, Fall Update 88 shows the vest as SOLD OUT. It is BY FAR the most common of the three on the current after market.
Post Catalog Era
Other versions of the vest followed after the catalog era was over. This one from the early 90s seems like a blend of versions 2 and 3 and I've seen it with both the Travel and Safari Tag as well as the early 90s tag. It featured interesting diagrams of the vest pockets on the inside front of the vest.

The vest was duplicated (superficially, if not to the same standards) by modern BR in the 2000s. You'll find it with a black label and note it has three key ring hooks.
This version was worn by Terry O'Quinn as John Locke on ABC's LOST in the fantastic first season episode "Walkabout".